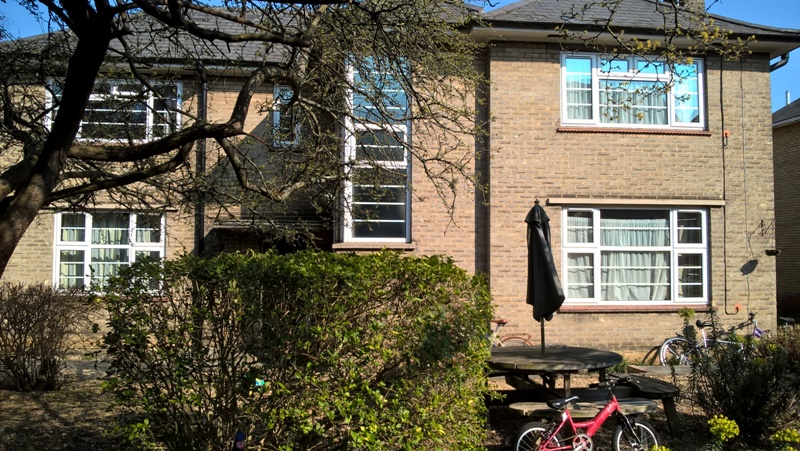 Recently the Society has become aware that Cambridge City Council are planning to demolish Burmaside House so that the neighbouring Ditchburn Place can be extended. The planning application reference is 15/2171/FUL.
The planning application comes to committee in the Guildhall on Wednesday 27th April at around 1pm. It is agenda item 14, all are welcome to attend and observe the committee meeting.
The Society fully supports the Council's aims to provide more and better quality care in Ditchburn Place however, we would like this to be done whilst retaining the exterior of Burmaside House. To that end we have submitted an application for it to be designated a Building of Local Interest and also for the entire Ditchburn Place site to be considered for Grade II listing.
The architect of Burmaside House, S.E. Urwin, who was County Architect in Cambridgeshire during the 1930s, was part of the European 'International' architectural movement which sought to change society through design – with very distinctive buildings in health and education. He was unusual in being 'home grown' (educated in Birmingham) whereas his more famous contemporaries working in the UK, eg. Berthold Lubetkin (Finsbury Health Centre), and Walter Gropius (in Cambridgeshire, Impington Village College) were Russian and German emigrés.
As a Local Authority architect most of Urwin's commissions were in health and education: he was defining his style at the County Infirmary (now known as Ditchburn Place), and both the Nurses Home and Burmaside are very much signature buildings. Working with the visionary County Education Officer, Henry Morris, he went on to design Bottisham and Linton Village Colleges (Grade II Listed), Swavesey Junior and Infants school, and the Cambridge and County Girls School, now Long Road 6th form college. From Cambridge he moved to Gloucestershire in 1939 and designed the schools, e.g. Kingswood School and the Women's Wards at Gloucester Sanatorium.
The applications are linked to above and also available for download on the files page.
You can read more information about the early history of Ditchburn Place on Capturing Cambridge at http://www.capturingcambridge.org/mill-road-area/mill-road/ditchburn-place/