Mill Road Celebrates India
Saturday, 9 September, 2017, 10:30 am

–

5:00 pm

Free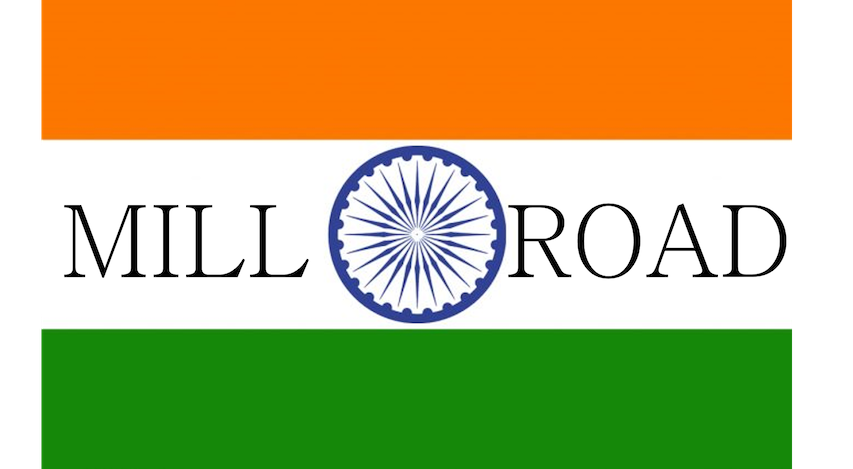 Mill Road History Society and partners invite you to a free drop in event to mark the 70th anniversary of Indian Independence as the Deaf Centre (off Mill Road, behind Cutlacks).
This event is part of Open Cambridge 2017.
The Deaf Centre, which is fully accessible, has a main and a small hall. This programme gives you estimated timings for events in each. Feel free to move between the two in a way that does not disturb performers. In the small hall, there's a chance to socialise, with short films, and a small exhibition. Between 12.30pm and 2pm sample Indian finger food specialities thanks to Amrik and Raj Lally of Lally's News.
10.30am – 11.15am Main Hall
An Indian Doctor in Mill Road, Upendra Krishna Dutt and his remarkable family
At the turn of the 20th century, 25 Mill Road was the home of Dr Dutt, his Swedish wife, and their children (all later prominent Communists). Venue for the Majlis Society and host to visiting Indian nationalists, today's Petersfield Surgery was once awash with international idealists. Join historian Jo Costin for a talk on this fascinating family.
11.30am – 12.15pm Small Hall
Highlights from the Archive
Kevin Greenbank, Archivist at The Centre for South Asian Studies, will introduce Cambridge University's Indian collection of photographs, letters and albums.
This will be accompanied by an exhibition of images from the collections about Independence, Partition and Decolonisation.
11.30am – 12pm Main Hall
Sanskruti Dance School
Students of Sanskruti School of Dance present Bharatanatyam – an ancient classical Indian dance form from the temples of Tamil Nadu.
1) Pushpanjali (offering of flowers), an invocation in Raga Nattai, Adi Tala will be performed by beginners.
2) Alarippu (to blossom in Tisram) will be performed as a solo by Oishani Goswami.
3) Mangalam.
12pm – 1pm Main Hall
Sitar Recital by Jonathan Mayer
Jonathan Mayer has studied sitar with Ustad Wajahat Khan, Pandit Subroto, Roy Chowdhury and Clem Alford. Toured extensively around the world including India, Bangladesh & Sri Lanka. Jonathan has played with artists such as Sir Paul McCartney, London Philharmonic Orchestra and Pandit Kumar Bose.
1pm – 2pm Small Hall
Malgudi Days
Meet some of the colourful characters from this fictional South Indian City in this DVD dramatisation of episodes from RK Narayan's Malgudi Days, published in 1943.
2pm – 3pm Small Hall
Bring an Object, Tell a Story, Ila Chandavarkar
Explore India through treasured objects. The session will start with a group of women from the Indian Subcontinent showing key objects they brought with them when they came to Cambridge and discussing why they chose them. Please feel free to bring an object from India if you would like to tell a story or ask questions.
3pm – 3.45pm Main Hall
The History of Indian Jewellery
Join us for a talk and demonstration by Tej Rao on the history of Indian jewellery from Mughal days to the present. www.facebook.com/indianjewelleryonlinestore
www.theethnicjoint.com
3.45pm – 4.15pm Main Hall
Stories from the Ramayana
An interactive session with puppets by Marion Leeper of the Cambridge Storytellers, especially for young children and their families.
4.15pm – 5pm Main Hall
Bollywood Dance Workshop
Try some vibrant Bollywood dancing with teacher Vidya from Roshni Margi dance. Bollywood dancing blends traditional forms of Indian dancing, such as Bhangra with Western fusion and contemporary dance, set to wonderful music.
Mill Road History Society thanks everyone who has helped with this event, in particular: Malavika Anderson, Rasik Kotecha, Ila Chandavarkar, Amrik and Raj Lally (Lally's News), Mahesh and Nila Gohel (Kailash Store), Tejal and Viren Barot (Nip In), Dipa Yadav (Inspirations Hair & Beauty Salon), Bridget Leneghan (Elitian) and everyone at the Cambridgeshire Deaf Association.