Festival of Ideas: Radical Mill Road
Tuesday, 9 October, 2018, 7:30 pm

–

9:00 pm

Free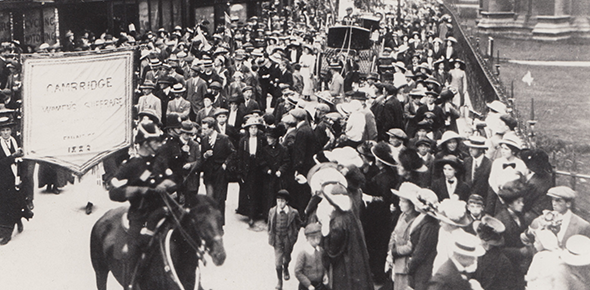 How did late 19th/early 20th century radical demands for social justice impact on Cambridge and Mill Road? Dr Deborah Thom introduces our theme with an overview of contemporary campaigns for social change; Mary Burgess will explore Women's Suffrage in Cambridge and Mill Road; and Antony Carpen will tell us more about Cambridge women who brought about change: Florence Keynes, Eglantine Jebb and Clara Rackham. The Vote100 exhibition from the Cambridgeshire Collection will be on display.
The event is at Ross Street Community Centre. Doors open at 7pm and the talks will be from 7:30pm to 9pm approximately.
This is a free event but will be ticketed. You will be able to book at https://www.festivalofideas.cam.ac.uk/events/radical-mill-road from 11am on Monday 24 September.
Image copyright: National Union of Women's Suffrage Societies, Cambridgeshire Collection, Cambridge Central Library.