AGM and Talk – Who Lived & Worked in Victorian Sturton Town?
Tuesday, 11 May, 2021
,
7:30 pm
–
9:00 pm
For our May event we have a short Annual General Meeting, followed by a talk from Helen Weinstein about Victorian Sturton Town.
The timeline for the evening is as follows.
7:15pm: The Zoom room is open
7:30pm: AGM, a short review of the year from our chair, Lucy Walker, a look ahead, and an opportunity for anyone to ask questions.
7:45pm: Helen's talk.
If you want to join in on Zoom then please sign up to the mailing list at https://millroadhistory.org.uk/mailing-list/. The event will also be streamed on this page on Facebook at https://www.facebook.com/millroadhistory from 7:30pm.
You are of course welcome to join for just the talk or just the AGM or both as you prefer.
Documents for the AGM
You can also read the current status of the Building Reports created by the Mill Road History Project and Society.
Who Lived & Worked in Victorian Sturton Town?
Helen Weinstein will talk about life, work and welfare of the people who lived in the area via an illustrated tour of historical sources and stories.
The talk will take you from open fields to the coming of the railway and Eagle Iron Foundry, to the building of the houses and early occupants of skilled working class men and women, often running their own businesses from home. Helen will share her recent research in the Cambridgeshire Archives to give insights into welfare issues including public health, sanitation, and the residents' activism to fight for clean air, access to green spaces and growing places, play parks and allotments.
This talk accompanies the 'FORGE' Exhibition in partnership with Museum of Cambridge and Cambridge Museum of Technology. FORGE has been created as part of the IronWorks programme of new homes being built by Cambridge Investment Partnership. The FORGE exhibition can be viewed online at http://resonance-cambridge.co.uk/forge/.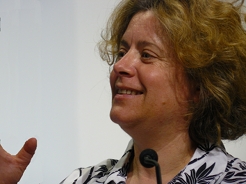 Helen Weinstein, Director of HistoryWorks, is the Community Historian for IronWorks. This talk accompanies Helen's community history project volunteering with Sturton Town's residents learning together to research the area using original sources. This next year the project will cover Sturton Town's streets with entries for the Capturing Cambridge website. For the AGM talk, the recent research on Hooper Street & Ainsworth Street will be published here: https://capturingcambridge.org/projects/sturton-town/
Helen Weinstein thanks Jo Edkins for sharing the horse delivery photo. Helen has researched the histories of local dairies and farms. This is a wonderful photograph of a working horse & wagon delivering milk from Biggs family business known as 'Sturton Town Dairy' with 3 milk rounds and the dairy located adjacent to their 89 Sturton Street shop with the Biggs family operating two other shops at 29 Gwydir Street and 123 Fitzroy Street.